Sepehr Assadi
Associate Professor, Faculty of Mathematics Research Chair
Cheriton School of Computer Science, University of Waterloo
Email:
[firstname] (at) [lastname] (dot) info
Email:
(s)[lastname] (at) uwaterloo (dot) ca
Office:
DC 3117
Phone:
(519) 888 4567
Research Interests: My research interest is in theoretical computer science and primarily algorithm design and complexity theory for modern models of computation. This in particular includes sublinear algorithms and lower bounds in various models for processing massive datasets such as streaming, distributed, massively parallel, and sublinear time algorithms. More broadly, I am also interested in graph theory, communication complexity, online algorithms, and algorithmic game theory.
Personal: My other half, Mina Tahmasbi Arashloo, works on networking also at University of Waterloo.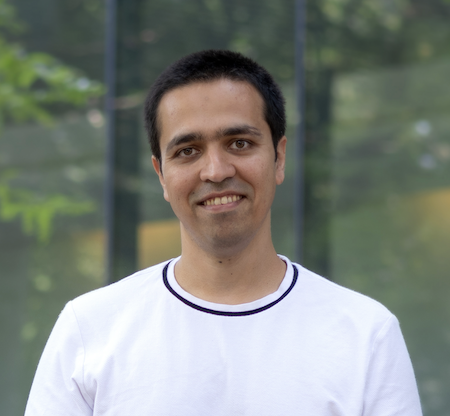 Prospective Graduate Students:
CS department at UWaterloo offers fully-funded MS and PhD positions with three separate application deadlines each year. You can also learn about the available positions in the A&C group here.
Interested specifically in working with me and my team and have a strong background in theoretical computer science and/or mathematics What does a strong background roughly look like? The most important factor is having mathematical maturity. Beyond that, this also includes but definitely is not limited to one or more of:

* Having done research (and possibly publications) on these topics;
* Having passed a few graduate and advanced-level undergraduate courses, or participated in reading groups on algorithms, complexity theory, combinatorics, probability, information theory, and/or algebra;
* Having participated in IOI/IMO or ACM-ICPC or similar national or international competitions;
* Having read a number of papers or followed developments in recent years on one or more area of research of your interest in TCS or Math, and can explain their significance to others. ? Submit an application to our graduate program and mention my name.
If you have read some of my papers and can concisely articulate your interest on working on those topics for your graduate studies, feel free to contact me directly. Unfortunately, I may not be able to respond to any other types of emails regarding graduate admissions.
---
About Me
I am an Associate Professor and a Faculty of Mathematics Research Chair in the Cheriton School of Computer Science at University of Waterloo and part of the Algorithms & Complexity (A&C) Group. I am also on the faculty of Computer Science Department at Rutgers University (currently on leave) and an affiliated member of DIMACS. My primary research interests are in algorithm design and complexity theory for modern models of computation and in particular sublinear algorithms and lower bounds---broadly interpreted---for massive graph problems.
Previously, I spent a wonderful year as a postdoctoral researcher in Theory of Computation Group at the Computer Science Department of Princeton University, supported by the Simons Algorithms and Geometry Collaboration. I received my PhD in 2018 from the Computer & Information Science Department at University of Pennsylvania and was extremely fortunate to have Sanjeev Khanna as my advisor. My PhD thesis was the recipient of EATCS Distinguished Dissertation Award, ACM-EATCS Principles of Distributed Computing Dissertation Award, and Rubinoff Dissertation Award. During my PhD, I spent the summer of 2017 as a research intern at Google Research (NYC) with their amazing Algorithms and Optimization team. I got my B.Sc. in Computer Engineering from Sharif University of Technology.
My research has been generously supported by the Alfred P. Sloan Foundation (Sloan Research Fellowship), the Faculty of Mathematics Research Chair from University of Waterloo, the National Science Foundation (NSF) (Faculty Early Career Development (CAREER) Award: CCF-2047061), Google Research (Research Scholar Program), and Rutgers Research Council (Fulcrum Award).
---
Teaching
Current courses:
Past courses:
---
Advising
I am very fortunate to be working/have worked with the following amazing students and postdocs:
Postdocs:
Graduate students:
Undergraduate students:
---
Professional Activities
Program committees:

| | | | | | | |
| --- | --- | --- | --- | --- | --- | --- |
| ESA 2023, | FOCS 2023, | ICALP 2023, | SODA 2023, | ICDT 2023, | RANDOM 2022, | ESA 2022, |
| STOC 2022, | SODA 2022, | SOSA 2022, | PODC 2021, | PODS 2021, | ICALP 2020, | SODA 2020. |

Journal editorials:
External reviewer:

I have regularly been a sub-reviewer for most major TCS conferences including STOC, FOCS, SODA, ICALP, CCC, PODC, ITCS, as well as TCS and combinatorics journals including JACM, SICOMP, TALG, RSA, and Discrete Math.
I have also been an external reviewer/panelist for grant agencies like National Science Foundation (NSF).

Miscellaneous:
---
As is the convention in Theoretical Computer Science, all authorships in this list are in alphabetical order. See the [tags] below each paper for more information including full versions, videos, etc. For further details, see [DBLP] and [Google Scholar].
A complete list of my publications is available here.